Are You Wondering, Where Can I Find a Chevrolet Transmission Specialist Near Me?
Every single vehicle needs regular maintenance. The same is true for your Chevrolet. Regular maintenance is a preventive method for major problems. One of the long term issues a vehicle owner may face is with a transmission. A transmission faces wear and tear just like any other mechanical component. The livelihood of the transmission often depends on the transmission fluid. That's why checking fluid levels is so vital. Transmission fluid lubricates and keeps parts within the component clean and fresh. Without it, major mechanical problems can occur. Our dealership service department takes great pride in checking transmission fluid during every regularly scheduled maintenance visit. We know your transmission depends on it. A healthy transmission is only as good as the routine check-ups. Fluid levels need to be at proper levels to make sure the transmission is working properly. Low levels could indicate leaks or other issues. Those issues could potentially cost you more money for repairs.
When Should I Change My Transmission Fluid?
Some experts disagree on when you should flush transmission fluid. The best recommendation for specific intervals to change your particular fluid is generally located in your owner's manual. Our professionally trained technicians can also advise you on potential times to change the fluid. This might be based on low levels or deteriorating fluids. Darker fluids might indicate the transmission fluid is older and not able to do the job. Smelly odors might also indicate that. Our technicians have years of experience working with the Chevrolet brand. We've diagnosed many transmission issues and will continue to do so for our valued customers. It's important each customer has a healthy vehicle. Many times that is based around the fluids. Our regular maintenance includes a healthy fluid check-up. We don't just check the oil. That's important. Fluids are also vital for other components like brakes. The transmission fluid is something we will never overlook.
Is My Transmission Going Bad?

Customers will often try to self-diagnose issues. Our service team can examine your vehicle and provide you with reliable answers in a timely fashion. You might be curious about potential symptoms. Symptoms of a bad transmission might involve several things. You might notice a slippage when switching gears. You might also notice the inability to accelerate. There might be a lag when trying to drive in reverse. There might be a foul odor from under the hood. Your car might make strange noises when switching gears. You might just notice that puddle of liquid under your vehicle in your driveway. You could also just see low levels on your dipstick upon checking transmission fluid levels. These are all indicative of transmission issues. You can schedule an appointment with our service team today for further evaluation. It's important to get a professional opinion. Small transmission symptoms can lead to major and costly transmission repair costs.
Come Visit Reliable Chevrolet in Springfield, MO Today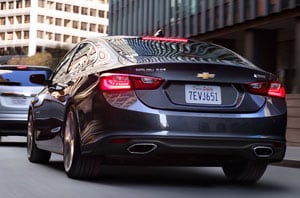 We know you have a hectic schedule. That's why you can rely on our vehicle service department to diagnose any issues you may have. We also can provide regular maintenance. We check all fluids. We carefully examine vital components so you don't have to. Our professionally trained technicians have years of experience working with Chevrolet vehicles and parts. You can quickly schedule an appointment with our top rated team today.