Has it been awhile since you had your tires replaced on your  new or used  Chevy? If so, it might be the perfect time for you to get new tires in  Springfield. Depending on how and where you drive, your tires can wear out  faster than they should. Keep reading our in-depth tire maintenance guide to  learn how to better take care of your tires and learn when you should have them  replaced.
The Importance of Tire Service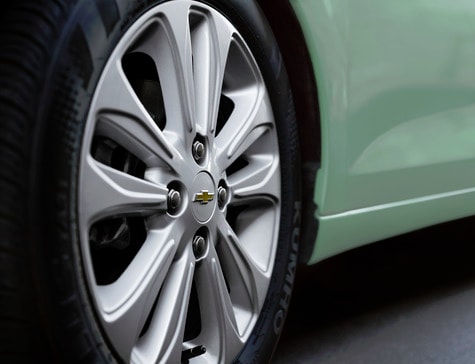 Routine tire maintenance, like oil changes and other car  services, are necessary in helping to keep your vehicle running its best.  Having your tires rotated every 10,000 miles will help keep the tread from  wearing out prematurely. We recommend having an alignment done at least once a  year, too. Having your tires balanced is also an important part of maintaining  your tires. These services will help keep your vehicle running well and ensure  your safety.
How Do I Know If I Need New Tires?
Springfield drivers generally find themselves in need of a  new set of tires every few of years. However, if you're experiencing any of the  following, you should schedule an appointment as soon as possible to have your  tires replaced, balanced, aligned or rotated:
Vibration:  If your vehicle pulls to one side while driving, then your tires might need to  be replaced or aligned.
Worn out  tread: Check your tire tread at least monthly. If you drive more than a few  thousand miles a month, make sure you check the tread every other week or so.  To do this, just take a penny and insert it into the tread with Abe's head  pointed down. If his head is visible, your tread is dangerously low.
Cracks,  gouges and cuts: If you see cuts, gouges and/or cracks in your tires'  sidewalls, then you're most likely in need of new tires. We recommend you bring  your car into our onsite  service center right away so one of our technicians can inspect your tires  further.  
Why Choose Reliable Chevy in  Springfield?
At our Springfield Chevy dealership, we take safety  seriously, and we work hard to make sure our customers receive high-quality car  care each and every time they visit. If you find that your vehicle needs new  tires, you'll be pleased to know that we carry a wide variety of top brands for  you to pick from, including Michelin, Goodyear, Firestone and Hankook.  
Please contact  us with any questions and one of our friendly associates will be happy to  answer all your inquiries. We look forward to serving you!