AC Repair in Springfield, MO
Are you concerned about the condition of your Chevrolet's air conditioner? While there may be many days of the year when the AC system is not needed, there are other days when the functionality of a car's AC system is crucial to your comfort and even to your well-being on the road. Because your Chevrolet has been manufactured with quality in mind, you can expect reliable longevity for all components. However, all components will eventually wear out and require service. Prompt, quality service is essential when your Chevy's AC system is damaged, and you can always count on our certified Chevy technicians to provide service that lives up to your high expectations.
Air Is Barely Blowing From the AC Vents. Can You Help?
While the temperature of the air that your AC system emits is essential for your comfort, the rate of the airflow is equally important. When cool air barely trickles out from the vents, scheduling air conditioner service with our auto techs is important. There are a few primary causes of this issue, including a moldy evaporator component, damaged seals, loose hoses and a broken ventilation fan. When you bring your Chevrolet to our service center, we can quickly diagnose the cause and complete the repair process so that you can get back on the road without delay.
Warm Air Is Coming From My Car's AC Vents. What Can Be Done?

This is a more common type of problem than many drivers think. In some cases, warm air blows from the vents as soon as the car is turned on. If this is the case with your AC system, the problem may be created by leaking Freon, a broken blower, a damaged compressor, leaky vacuum seals, condenser damage and more. Some AC systems will blow cool air for a minute or two, but the air will quickly warm up. If this sounds like your current experience, issues related to damaged compressor clutch, damaged seals, a blockage in the expansion valve, a damaged fuse and other issues may be the cause. With numerous causes, our team will initially complete a diagnostic service to identify what type of repair work is required.
Can You Fix a Leak in My Car's Air Conditioner System?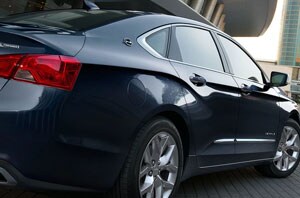 If you suspect that your Chevrolet's AC system has even a minor leak, immediate service is beneficial. A small leak can allow moisture to come in contact with the refrigerant in the AC system. This creates a reaction that produces a corrosive and very damaging substance. A quick diagnosis and repair of a small leak may prevent the need for your system to be completely replaced. We typically use two techniques to determine if there is a leak and to locate where the leak is. These techniques involve using specialized sniffer technology and dyes that are visible under a blacklight.
My Air Conditioner Smells Horrible. Does It Need to Be Replaced?
In most cases, a pungent smell that is similar to rotten eggs or gym socks can be remedied quickly and without the need for an expensive system replacement. One of the common causes of foul-smelling AC system odors is a dirty air filter. Our technicians can replace your system's air filter in a matter of minutes to remedy the situation. Another cause is mold growth in your system. This mold typically begins to grow because a blocked line allows moisture to build up on the evaporator case. Moisture in this dark area can lead to mold growth. The solution to address this issue involves cleaning the blocked line and removing the mold. Regardless of the problems that you are facing today with your Chevy's AC system, contact us for exceptional repair service.