Chevrolet Spark Review for 2016 Model Year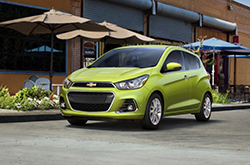 Redesigned with unmatched style, efficiency and comfort, the 2016 Chevrolet Spark in Springfield is the perfect vehicle for in-town commuting and local riding. Designed with customers' wants in mind, the 2016 Spark is all-new with a restyled body, re-engineered features and extra amenities for your convenience. For more information, check out our 2016 Chevy Spark review below.
The Spark minicar may be small, but it offers a strong performance, bold style and major features. Not only is it equipped with a new 1.4L engine that provides even more horsepower than the previous model, the 2016 Spark is paired with a continuously variable transmission that delivers exceptional efficiency. This agile and efficient powertrain is met with a capable design that is now shorter and wider than before, a combination that is more urban and athletic. Buyers can also select from three additional exterior colors (Toasted Marshmallow, Kalamata and Splash) to customize their Spark to display their own personal flair.
A true masterpiece, the Spark's style and performance don't come at the cost of comfort and convenience. The lowered roof is met with a redesigned interior that offers ample room for passengers and cargo. In addition, drivers will love extra support via the all-new LCD instrument panel that provides essential infotainment and climate controls. Plus, the new MyLink radio offers a color touchscreen that can easily be swiped, pinched or tapped for easy operation, while the available OnStar programs can be used to convert the trendy Spark into a 4G LTE Wi-Fi hotspot.
All of this convenience and style does not come without safety features that are praised by 2016 Chevy Spark reviews. Chevrolet knows that drivers need to get from point A to point B safely, which is why the Spark offers a standard rearview camera and 10 standard airbags in addition to optional forward collision alerts, lane departure warnings and rollover sensors.
A top choice for local drivers looking to save money on fuel, help the planet and ride in style, the 2016 Chevrolet Spark in Springfield is a truly unparalleled option in the minicar segment.