2016 Chevy Camaro Research and Review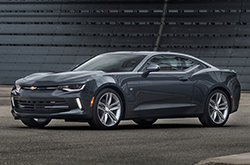 An exceptional performance vehicle with an iconic legacy, the all-new sixth-generation Camaro blends the best of the past with contemporary upgrades to prove that the sixth time is a charm. The 2016 Chevy Camaro in Springfield is a more efficient, more powerful and leaner version of the exceptional sports car that has been the segment's bestseller for the past five years. Whether you are interested in the premium SS with remarkable track capabilities or the efficient standard model that offers new technology and top-notch styling, there is no compromising the vehicle that 2016 Chevy Camaro reviews esteem as an elite selection.
Now equipped with the choice of 10 exterior colors, 5 interior options, convertible capability, an LED premier lighting system and 6 powertrain options, the 2016 Camaro is more customizable than ever. Plus, with a leaner and more agile body that offers the recognizable Camaro boldness, Chevy's classic performance vehicle delivers an unmatched experience in stability, handling, aerodynamics and acceleration.
In addition to three engine models, buyers have the selection of a seven-speed manual transmission or a paddle-shift capable eight-speed transmission. The standard engine, a 2.0L Turbo rated at 275 horsepower and 295 lb.-ft. of torque, offers terrific fuel numbers on the highway. An additional 3.6L V6 is also available on the Camaro LT as an exceptional option that provides a little more power (335 horsepower and 284 lb.-ft. of torque). Looking for supreme power on the track? The Camaro SS sits at the top of the Camaro lineup with an SAE-certified 455 horsepower and 455 lb.-ft. of torque; performance standards that make it the most-powerful SS in history, according to 2016 Chevy Camaro reviews.
With an innovative Drive Mode Selector, next-generation MyLink technology, an electronic parking brake, an eight-inch high-definition instrument display and a redesigned center console, the 2016 Camaro offers drivers a high-tech experience that does not come at the cost of comfort and style. For more information on the sixth-generation 2016 Chevy Camaro in Springfield, check out the rest of our review below or test drive one of our models today.