Quality Chevrolet Volt Research From Reliable Chevrolet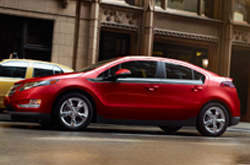 If you feel strongly about alternative fuel, the 2015 Chevrolet Volt, on sale in Springfield, is the perfect solution to achieving low-to-zero emissions. Especially for those who generally commute in the twenty-five to thirty-mile round-trip range, you can almost eliminate gasoline purchases. The Volt's powertrain is a remarkable example of modern ingenuity; a complex combination of transmission, motor and generator in one interactive unit. If you drive beyond the estimated all-electric range of about 38 miles, the gas engine activates and keeps the electric battery semi-charged while extending your driving range to about 300 miles. Ideally, you'll be conducting a complete recharge long before you go that far, saving a gas refill for another time, far, far down the road.
In case you have apprehensions about how well an electric powertrain performs, we'd like to begin our 2015 Chevy Volt review with a quote from Cars.com driver/reviewer, Aaron, who described his experiences in driving a Volt "in the middle of one of the coldest winters in Michigan history." It's a given that electric car battery performance is effected by temperature, so we thought it significant that performance, while it varied, was still commendable, and we especially like the description he gives of highway driving. "I was once able to go 52 miles on electricity only in a fully charged Volt in perfect conditions ... but I have also seen a Volt go 25 miles on electricity before switching on the gas engine - on a cold morning with the heat blasting while zipping down the highway at 75 mph." We'd like you to pay close attention to that zipping part! Yes, your Volt will zip on the highway! Since it's not that far to cross Springfield, you can potentially commute most of the year with only rare stops for fuel; recharging your Volt overnight at home. And while it gets pretty cold in Springfield in January, it's not going to rival the record-breaking cold in which Aaron tested the Volt.
With range and highway-driving fears allayed, we'd also like to point out that your Volt is loaded with all the latest technology to make your driving time more pleasurable. The standard equipment list includes convenience and connectivity features like a loaded audio system with color touch-screen display interface in addition to Bluetooth phone connectivity. You also have keyless entry including remote start and remote systems check. The newest addition is the OnStar 4G LTE connectivity with Wi-Fi included on every 2015 Chevrolet Volt on sale in Springfield.
As our 2015 Chevy Volt review continues, you'll find more information on standard and available equipment, along with some examples of real-time Volt inventory at Reliable Chevrolet.