About Chevrolet Reviews From Reliable Chevrolet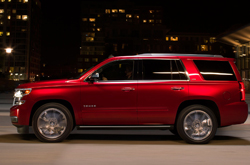 You've got to give Chevy credit - they had the top selling full-sized SUV in the market by a lion's share and were positioned to sit back, relax, and rake in the profits. But this proactive automaker knows how to get the jump on its competition; to wit, we find the redesigned and upgraded 2015 Chevrolet Tahoe on sale in Springfield. Completely new inside and out and featuring a quieter, more comfortable and better-connected ride. Tahoe has upped the stakes for competing family SUV makers by offering premium luxury and convenience. Kelly Blue Book's 2015 Chevrolet Tahoe review declares Tahoe king of the segment, saying: "This is the best interior treatment we've ever seen in a domestic SUV. We're not exaggerating when we say the 2015 Tahoe LTZ interior is nicer than the one in the previous-generation Cadillac Escalade Platinum."
So, what's new? Just about everything. Start with a new exterior build sporting keen-edged sculpting and accented by LED-trimmed headlights. Step inside and find class-leading technology from the base model's Bluetooth for phone and audio to OnStar's ultra-convenient directions and connections. LT adds more connectivity and advanced safety alert features, plus the option of keeping the 2nd-row bench seat for eight-passenger capacity or opting for passenger captain's chairs. Once you ascend to the LTZ trim, you're in luxury-land; 2nd row captain's chairs are a must. the LTZ's standard Magnetic Ride Control protects against annoying road imperfections, sweeping you along smoothly and comfortably, luxury sedan-style. All the while, you're protected by advanced-technology camera- and radar-based safety systems.
Every 2015 Chevrolet Tahoe for sale in Springfield comes with a 5.3-liter V8 and 6-speed automatic transmission. If you plan to pull a boat, camper or trailer, you may want to opt for the available four-wheel drive. To learn more about seating and the new raised floor with under-floor storage, find more facts and a video feature overview contained in the last half of our 2015 Chevrolet Tahoe review.