Chevrolet Suburban Review for 2015 Model Year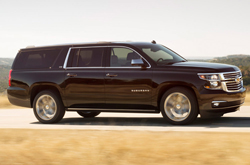 If you're looking for an SUV for real utility that includes heavy cargo needs, you need to return to the source and take a good look at a 2015 Chevrolet Suburban in Springfield. While other SUVs have been shrinking to do the job formerly claimed by station wagons, the Suburban has kept the power and utility of the truck-based SUV intact. Suburban also offers luxury and convenience features to make this powerhouse SUV even more attractive as a multi-use vehicle. Kelly Blue Book drives this point home in their 2015 Chevy Suburban review, announcing: "If you want maximum cargo and passenger capacity, combined with 4-wheel-drive (4WD) capability, big-trailer towing capacity, and a luxurious interior, the 2015 Chevrolet Suburban is your best pick." Our sentiments exactly!
For those who want to pull heavy equipment, haul horses or hook up the family camper, Suburban has the chops for it, along with the ability to unhitch and taxi eight or nine people to work, school, out for the evening, or on a cross-country trek. Even if you use your Suburban to carry cargo without a trailer, the fold-flat rear seating makes it possible to load up for business in the morning and take on a large group of party-goers the same evening. And your party-goers will enjoy the ride thanks to standard satellite radio, USB and Bluetooth connectivity. If that's not enough, bring along any Wi-Fi connectible device and make use of standard built-in WiFi with 4G LTE connection speeds in any 2015 Chevrolet Suburban for sale in Springfield. Tired of back-seat know-it-all navigators? Let OnStar's directions and connections end those best-route arguments before they start. Too many heads in the way for backing? The standard equipment rear vision camera keeps you from getting into trouble! Not pampered enough yet? Try the LTZ's luxury package for 12-way power driver and passenger seats with heated and cooled cushions and four-way power lumbar control. You work hard; you deserve it!
Your Suburban works hard too. Its EcoTec3 direct injection engine with continuously variable valve timing is designed for optimum power, torque and efficiency. Rated at 355 horsepower and 383 pound-feet of torque, the 2015 Suburban's 5.3-liter V8 achieves highway mileage efficiency ratings solidly in the low twenties range, marking a significant improvement over past models. Learn more about Chevy's advanced safety features and compare Suburban to other SUVs, as our 2015 Chevrolet Suburban review unfolds below.