Quality Chevrolet Spark Research From Reliable Chevrolet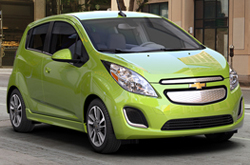 If you're looking for a "county car" in Springfield, you should consider the Chevy Spark. A step under the subcompact Sonic, the Spark is a microcar hatchback ideally suited for in-town commuting. We'll look at the Spark's numbers, features and car comparisons in our 2015 Chevrolet Spark review for Springfield eco-car shoppers.
The Spark competes with entries like the Fiat 500 and Scion iQ, and is less challenged by the Smart Fortwo due to Spark's competitive starting price and fuel economy coupled with its larger interior. Four doors and room for two backseat passengers make Spark a practical choice among the microcar segment. With Spark's tall profile and split-folding rear seats, you can optimize the interior to create up to 31 cubic feet of cargo space. Yes, the engine is small, but when your car weighs less than 2,400 pounds, 83 horses provide ample power for jockeying around town.
You'll also find stand-out styling coupled with righteous connectivity in the 2015 Chevy Spark in Springfield. Chevy's Onstar Directions and Connections is standard, and new in 2015, Onstar's 4G LTE connection with built-in Wi-Fi turns your Spark into a mobile Internet hotspot. Available options include Chevy's MyLink infotainment system with its 7-inch touchscreen interface, audio streaming and voice recognition controls, while iPhone users will find the familiar Siri on board with MyLink.
This award-winning little car boasts a KBB Lowest 5-Year Cost to Own award last year based on insurance fees, depreciation, fuel and maintenance costs. So when you make a great deal on a new 2015 Chevy Spark in Springfield, your savings don't stop there. Add to that, the assurance of knowing the Insurance Institute for Highway Safety chose Spark as one of last year's Top Safety Pick award winners, and you know you have a winner.
Spark's spicy style, cool features and low cost of ownership make it an attractive choice for the in-town crowd. Our 2015 Chevrolet Spark review continues with more information on Spark features and current Springfield Spark inventory. If you're still not convinced, try using the independent car comparison tool below to see how Spark outshines other subcompacts like the Honda Fit and Ford Fiesta.