About Reliable Chevrolet Malibu Reviews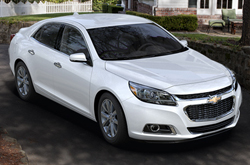 Practical performance balanced with remarkable fuel efficiency and undeniable style, the new 2015 Chevrolet Malibu mid-size sedan delivers a premium ride at an economical price. Pioneering features include cutting edge safety and available internet connectivity with built-in 4G LTE Wi-Fi and OnStar protection. The forward-thinking innovation and precision engineering truly deliver, making this the top new sedan on the market today. Continue reading our 2015 Chevy Malibu review to learn more.
Fuel-efficiency is paramount on the new 2015 Chevrolet Malibu in Springfield. Seamless stop/start technology, an innovative feature brand new to the Malibu, automatically shuts off the engine when braking, saving fuel and increasing your MPG to a class-competitive 36 MPG highway. At the heart of this design is Chevy's revolutionary 2.5-Liter 4-cylinder ECOTEC engine, which boasts an impressive 196 horsepower, giving you V6 power from a 4-cylinder engine. An available turbocharged option increases the 2015 Malibu's capability, pumping out over 259-hp and 295 lb.-ft. of torque.
With the available mobile hotspot connectivity, the 2015 Chevy Malibu enables up to 7 devices to connect seamlessly to the internet, from the OnStar system to laptops to tablets. Internet in your car is no longer confined to your smart phone.
An aesthetically pleasing upscale interior design ensures you and you passengers are treated like royalty, without breaking the bank. A precision attention to detail and accommodating sizing keeps passengers comfortable despite the compact wheelbase. An optional power driver seat is ideal for drivers both short and tall.
With 10 airbags included standard, 4-wheel anti-lock disc brakes and innovative StabiliTrak electronic stability control, the 2015 Chevrolet Malibu in Springfield delivers supreme safety for driver and passengers. In the event of a collision, the Malibu is equipped to protect. Earning a 5-star overall NHTSA safety rating for the 2014 model year. For even more information, specifications and performance details, continue reading our 2015 Chevrolet Malibu review below.