Check Out the New 2015 Cruze From Reliable Chevrolet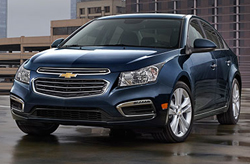 Refreshed for the new model year, our 2015 Chevy Cruze review can only begin to touch on the various improvements made to this phenomenally popular, fuel-efficient sedan. Raising standards across the board, the endlessly versatile 2015 Chevrolet Cruze, for sale in Springfield, provides the control, performance and responsiveness Missouri shoppers demand. The new Cruze goes well beyond the everyday sedan.
Inside and out, the new 2015 Chevy Cruze reflects an attention to detail unsurpassed in the compact car market. With aggressive new styling and an abundance of convenient amenities like 4G LTE connectivity, it is designed to turn heads and inspire jealousy wherever you go. A pronounced new grille, swept-back LED headlamps, and a wide, sporty stance gives the 2015 Chevrolet Cruze an inspired presence that looks as good as it performs.
Speaking of performance, residents shopping for a new 2015 Chevy Cruze in Springfield will love the driven performance of the available 2.0-Liter turbocharged clean diesel engine. Offering 46 MPG, this efficient engine option has the best highway fuel economy of any gas-only diesel on the market. A standard 6-speed manual transmission on the Cruze LS offers up to 36 MPG, still an impressive number for a car this capable.
Continuing Chevy's legacy of safety, The 2015 Chevrolet Cruze has more standard safety features than any compact car in its class. Prevent accidents with standard StabiliTrak electronic stability and traction control. Protect with the 10 standard air bags and steel frame construction. Respond with OnStar Automatic Crash Response. The 2015 Cruze's reputation in safety is well-deserved.
Critically received by auto critics for its versatility and impressive styling, the new 2015 Cruze Compact leaves heads turned and the competition coughing up dust. Delivering increased mileage, advanced safety features, improved cargo capacity, and luxurious interior and exterior styling, the new 2015 Chevy Cruze's dynamic design incorporates everything Springfield shoppers are searching for, all in one compact sedan. Continue our 2015 Chevrolet Cruze review below for even more information about this revolutionary ride.