Springfield Chevrolet Dealership Reviews the New City Express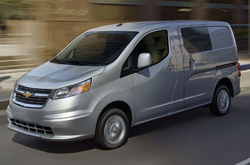 Ideal for navigating the busy streets, the new 2015 Chevy City Express is Springfield's answer to cost-effective cargo transport. Conveniently sized to offer optimal cargo capacity without sacrificing fuel efficiency, the 2015 City Express tackles anything the urban jungle can dish out, and then takes on more!
In the 2015 City Express your cargo is king. With an accommodating profile, vertical body sides and an innovative 40/60 split rear access door, this small cargo van is the epitome of tailored transport. Available trims and packages allow for customized comfort and capacity, with optional Adrian Steel bins, drawers and shelving, hook bars, dividers and more. Whatever your business demands, big or small, the 2015 City Express can handle it.
Small but powerful, the 2015 City Express for sale in Springfield features a 2.0-Liter DOHC L1 Engine standard. This compact engine delivers concentrated performance, pumping out over 130 horsepower at 5200rpm, and 139 lb-ft of torque at 4900rpm while maintaining an EPA estimated 24 MPG city. With the muscle to navigate through the hustle and bustle of busy city-streets, you can trust the City Express to ensure your deliveries arrive quickly with minimal fuel costs.
An intelligent interior allows Springfield drivers to tack on more miles with less fatigue. With AC climate control, available Bluetooth connectivity and cruise control, both driver and cargo are comfortably accommodated. The well-crafted wheelbase enables the 2015 City Express to maneuver through tight traffic, and the low-loading bed is a real back-saver that also lowers the overall height for easy access to parking garages and below-ground loading docks.
Our 2015 Chevrolet City Express review continues below with more details, options and features including and a video tour, additional specifications, comparisons, and more. Stop in at Springfield's prominent Chevrolet dealership to test drive the new 2015 Chevy City Express today and see what this innovative new transporter can do for you.