With winter just around the corner, now is the time to focus on ways that you can prepare your car for the long winter ahead. Investing in a new vehicle is a big deal. It can be challenging to operate a vehicle during the winter. Taking the time now to prepare your vehicle, can make a big difference in how well your vehicle holds up over the next few months. Don't let the icy streets, salted roads and cold temperatures affect your vehicle.
How Should I Check my Headlights?
With the cold and snow comes a decreased amount of daylight hours. Depending on when you do your most driving, your headlights may be getting a lot of use. If your headlights are dirty and not functioning well, this is impeding your ability to see well. A good cleaning of your headlight compartment can make a big difference. It is also important to make sure your headlights are pointed at a good angle. They should be even, and pointed out at the road ahead. If you are someone that finds it challenging to drive at night, talk to our service center about changing your bulbs to something that is brighter and whiter in color.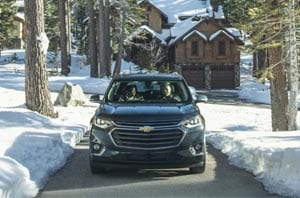 Top Off Your Fluids
Make sure that all of your fluid levels are topped off before the weather turns bitter. Your coolant levels are important. Coolant will help prevent your engine from freezing up. Aside from topping off coolant levels, it's also important to make sure that there are no leaks present. You can also top off your windshield wiper fluids, oil, etc. Your gas tank should always be kept at half-full. You want to make sure you have enough gas in the instance you are stuck in winter weather-related traffic.
Should I Check My Battery in the Winter?
Your battery assists with starting your vehicle each day. Some additional draw is put on your battery when the weather is very cold. Have your battery inspected to make sure that it is charging properly and holding a charge.
Check Your Tires
Winter tires are the best option when it comes to great road handling during the winter months. If the tread on your tires is getting pretty low, now is the time to invest in a new set. This can be a big investment, but it is well worth it when you think about how important tires are to your overall safety. Also, make sure that your vehicle's tires are wearing down at the same level. If not, you could have a bigger problem going on with your brakes.
Created a Prepared Survival Kit
Make sure that you have some extra items in your vehicle. You should have a warm blanket, some bottles of water, food and a first-aid kit. Have any other items on hand that you think you might need. Road flares can keep you safe if your vehicle gets stuck. An extra phone charger can help you stay in touch. Keep your roadside assistance information handy as well. If you need assistance with getting back on the road, you don't want to be searching for the necessary information.
If you are in need of assistance with your winter maintenance needs, stop down to Reliable Chevrolet for more information. Our staff of service technicians can make sure your vehicle is ready for the winter ahead. We want to make sure that you are safe while driving on those slick roads. A little maintenance now can go a long way towards protecting yourself, and your vehicle while driving in the winter.