Reliable Chevrolet is fired up to be the premier venue for the Chevrolet Aveo in MO. Reliable Chevrolet is an Springfield Chevrolet dealership and carries a large inventory of New Chevrolet Aveo and top quality and high value Used Chevrolet Aveo and other cars & trucks.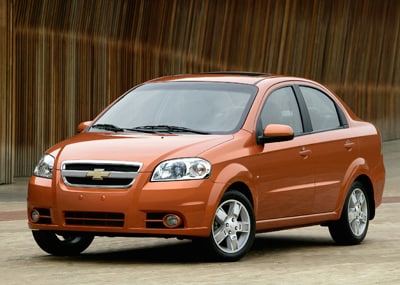 When buyers compare the Chevrolet Aveo to other makes like the Hyundai Accent, Nissan Versa, Ford Fiesta and VW Golf , the 2012 Chevrolet Aveo shines as the most fun-to-drive. Starting with the 2011 Chevrolet Aveo, owners found this affordable Compact Sedan's crisp handling and lively acceleration to be reason enough to choose.
You'll enjoy the Chevrolet Aveo, affordable small car, when you visit Reliable Chevrolet in Springfield
Since its arrival in 2004, Aveo has been one of Chevrolet's top sellers. Available as a hatchback or subcompact sedan. This comfortable affordable small car provides ample amounts of legroom and headroom. Aveo is fun to drive and to look at. It comes equipped with an MP3-enabled audio system & faux carbon-fiber trim, and is available in several bright colors.
The Aveo5 is more than your ordinary 5-door hatchback. It may look small on the outside, but feels much larger on the inside. It comes equipped with several features and plenty of space for an remarkably enjoyable ride. The rear seat folds and flips, creating an additional 37.2 cubic feet of room. Aveo makes plenty of room for your precious cargo, without sacrificing comfort for its passengers. In fact, it offers best-in-class rear and front hip room, as well as front shoulder room.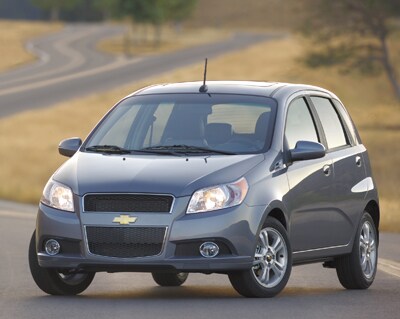 The various trim levels offered for Aveo include the Aveo Sedan, Aveo Sedan LS, Aveo Sedan 1LT, and Aveo Sedan 2LT. Standard trim on Aveo5 comes with side airbags and a radio with four speakers, 14-inch steel wheels, manual windows and manual locks. The LS adds carpeted floor mats, 15-inch alloy wheels, air-conditioning, as well as desired options such as a sunroof, cruise control, power windows, antilock brakes, a CD/MP3 player, and keyless entry. The LT trim is available only on the sedan and comes with most of the LS model's options as standard. It can also be ordered with an upgraded audio system and leatherette seating.
When it comes to fuel efficiency, Chevrolet Aveo is at the top of its game. Compare Aveo to the Hyundai Accent, Nissan Versa, Ford Fiesta and VW Golf, and you will find that Aveo comes out ahead on fuel economy, offering up 35 MPG highway. Each Aveo also includes an ECOTEC 1.6 I-4 16-valve engine with Variable Valve Timing that generates ample torque and horsepower.
Safety is a prominent priority for Aveo, as each and every Aveo is equipped with a steel safety cage to offer protection to its passengers in the unfortunate event of a collision. Additionally, Aveo comes standard with advanced dual-stage drive and front passenger side-impact and frontal air bags, so everyone is surrounded with protection.
Here's why the Chevrolet Aveo has earned the right to be your desired affordable small car in majestic MO
Reliable Chevrolet offers the Chevrolet Aveo a 3-door Compact Sedan which seats 5 people pleasantly. The Aveo weighs 2568 pounds, is 169.7 inches long, 67.3 inches wide, 59.3 inches high, and the Chevrolet Aveo's turning radius is 33 feet. substantially comfortable for its class, the Aveo has 39.3 inches of headroom in the front, and 41.3 inches of legroom up front. In the Aveo's back seat, there are 37.4 inches of headroom and 35.4 inches of legroom. Need to bring a lot of luggage? The Aveo trunk holds up to 12.4 cubic feet of your cargo. So, take it easy and indulge!
Standard Chevrolet safety features included in the Aveo are traction control, anti-lock brakes, side airbags, driver airbags, side-impact bars, seat-belt pre-tensioners, passenger airbags. With all these features, the Chevrolet Aveo is always rated remarkably by the IIHS and NHTSA.
The Aveo also has a raft of comfort and convenience features, including power steering, remote locks, power windows, power mirrors, climate control, cruise control, air conditioning, power seats, adjustable steering wheel, and more! Especially nice are available hands-free phone and navigation. Test drive the Chevrolet Aveo in Springfield at Reliable Chevrolet.
Like all Chevrolet cars & trucks, road handling and performance are top priorities for the Aveo. Passing horsepower in the base Aveo is 138 bhp @ 6400 rpm, and producing excellent torque 105 ft lb @ 4000 rpm foot pounds/rpm, the Aveo accelerates briskly from 0 to 60 mph in just 9.4 seconds. If you want to go that fast, the Aveo has a top speed of 106 miles per hour. Despite this excellent power train output, the Chevrolet Aveo's fuel economy is rated at 27 miles per gallon in the city and 35 highway miles per gallon. With a fuel tank capacity of 12 gallons, the Aveo cruising range is well above average. Truly a performance car!
The Chevrolet manufacturer's warranty covers the Aveo for manufacturing defects and has these specifications 3 years / 36,000 miles. Chevrolet has worked for years to minimize enviromental impact, and the Aveo's carbon footprint is rated at . Not surprisingly, with all these Aveo advantages, this great Chevrolet Compact Sedan retains percent of its value at 3 years and 36,000 miles, which makes the Chevrolet Aveo a great used buy!
When seeking safe, economical, sporty and stylish Compact Sedan, Springfield buyers should head to the Chevrolet dealer of choice, Reliable Chevrolet at in Springfield MO.