Reliable Chevrolet is enthusiastic to be the leading venue for the Chevrolet Avalanche in Missouri. Reliable Chevrolet is an Springfield Chevrolet dealership and carries a vast inventory of New Chevrolet Avalanche and top quality and high value Used Chevrolet Avalanche and other cars & trucks.
When shoppers compare the Chevrolet Avalanche to other makes like the Ford F150 Super Crew, Toyota Tundra and Honda Ridgeline , the 2011 Chevrolet Avalanche shines as the most fun-to-drive. Starting with the 2010 Chevrolet Avalanche, owners found this affordable SUV's crisp handling and lively acceleration to be reason enough to choose.
You'll fall for the Chevrolet Avalanche, sport utility truck, when you go shopping at Reliable Chevrolet in Springfield
One part Chevy SUV, one part Chevy Truck, the Chevrolet Avalanche remains one of the most versatile vehicles on the road. The youthful, four-door 2011 Chevrolet Avalanche impresses with its advanced 5.3-liter V8, 310 horsepower, and 335 pound-feet of torque that matches up to a six-speed automatic transmission. Avalanche was built for utility, and shares the long-wheelbase chassis used on the Cadillac Escalade as well as the Chevrolet Suburban.
Unlike the average truck, the bed of the Avalanche opens to the back seat by using a Midgate, which encompasses a folding panel with a removable rear window. The one-of-a-kind Avalanche Midgate allows Avalanche to be completely set apart from the crowd. To convert the SUV into a pickup is simple; begin by lowering the 60/40 split-folding bench seat. Then, the Midgate can lower into a secure cargo area, or the rear window can be removed, thus creating more space for your equipment. In fact, the rear window can actually be stowed in the Midgate. Compare Chevrolet Avalanche to other trucks, like the Ford F150 Super Crew, Toyota Tundra and Honda Ridgeline, and you will see why the Chevrolet Avalanche stands head and shoulders above the competition.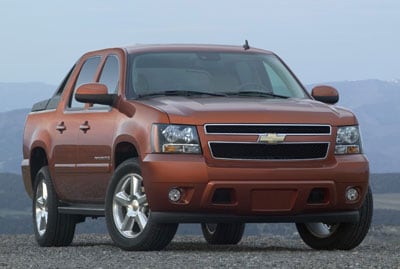 What makes the Chevrolet Avalanche even more unique is that it is a full-size SUV with an open bed, instead of employing the typical covered compartment. Extra storage space is provided behind each wheel well, and can be easily accessed by locking the flip-top panels and also double as self-draining ice chests. Due to the unique Midgate, Avalanche allows for a quick change from being a six-passenger pickup truck to a three-passenger pickup approximately eight feet of cargo space. The Chevy Avalanche is available in three trim levels that include the base Avalanche LS, the midgrade Avalanche LT and the top of the line Avalanche LTZ.
Safety is also a priority for the 2011 Avalanche. It comes standard with head-curtain side-impact air bags, as well as front seat-mounted side-impact air bags. These are in addition to the standard dual-stage frontal, driver, and right-front passenger air bags with the Passenger Sensing System. Also added for safety, is the Tire Pressure Monitor. It monitors the inflation level and alerts the driver if any of the tires are low on air.
The Chevy Avalanche is for sale at your leading Springfield Chevrolet dealership. The Avalanche provides a pleasant driving experience and a smooth ride. Whether you?re looking for an Avalanche LT1, or for more information about Avalanche Flex Fuel, Avalanche E85 Fuel, Avalanche Vortec engine, Avalanche 4WD, Avalanche 2WD, or just looking for Avalanche accessories, we can assure you that Reliable Chevrolet has got exactly what you need.
Here's why the Chevrolet Avalanche is good enough to be your ultimate sport utility truck in magnificent MO
Reliable Chevrolet offers the Chevrolet Avalanche a 4-door SUV which seats 5 people comfortably. The Avalanche weighs 5548 pounds, is 221.3 inches long, 79.1 inches wide, 76.6 inches high, and the Chevrolet Avalanche's turning radius is 43 feet. incredibly spacious for its class, the Avalanche has 41.1 inches of headroom in the front, and 41.3 inches of legroom up front. In the Avalanche's back seat, there are 40 inches of headroom and 39.1 inches of legroom. Need to bring a lot of luggage? The Avalanche trunk holds up to 45.5 cubic feet of your equipment. So, relax and have fun!
Standard Chevrolet safety features included in the Avalanche are traction control, anti-lock brakes, side airbags, driver airbags, side-impact bars, seat-belt pre-tensioners, passenger airbags. With all these features, the Chevrolet Avalanche is always rated notably by the IIHS and NHTSA.
The Avalanche also has a raft of comfort and convenience features, including power steering, remote locks, power windows, power mirrors, climate control, cruise control, air conditioning, power seats, adjustable steering wheel, and more! Especially nice are available hands-free phone and navigation. Test drive the Chevrolet Avalanche in Springfield at Reliable Chevrolet.
Like all Chevrolet cars & trucks, road handling and performance are top priorities for the Avalanche. Passing horsepower in the base Avalanche is 320 bhp @ 5400 rpm, and producing excellent torque 335 ft lb @ 4000 rpm foot pounds/rpm, the Avalanche accelerates promptly from 0 to 60 mph in just 6.9 seconds. If you want to go that fast, the Avalanche has a top speed of 125 miles per hour. Despite this excellent power train output, the Chevrolet Avalanche's fuel economy is rated at 15 miles per gallon in the city and 21 highway miles per gallon. With a fuel tank capacity of 31 gallons, the Avalanche cruising range is well above average. Truly a performance car!
The Chevrolet manufacturer's warranty covers the Avalanche for manufacturing defects and has these specifications 3 years / 36,000 miles. Chevrolet has worked for years to minimize enviromental impact, and the Avalanche's carbon footprint is rated at . Not surprisingly, with all these Avalanche advantages, this great Chevrolet SUV retains percent of its value at 3 years and 36,000 miles, which makes the Chevrolet Avalanche a great used buy!
When seeking safe, economical, sporty and stylish SUV, Springfield shoppers should head to the Chevrolet dealer of choice, Reliable Chevrolet at 3655 Campbell in Springfield MO.