Springfield Dealer Researching the New Chevy Volt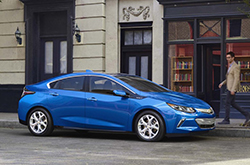 The all-new 2016 Chevy Volt defies all expectations with its top-of-the-line comfort, stronger acceleration and class-topping EV range of 50 miles. Now available with more room, more efficiency and easier charging methods, the 2016 Chevy Volt in Springfield is the ideal plug-in hybrid for area drivers. For more information, check out the rest of our 2016 Chevrolet Volt review below.
With a stronger body structure, quieter ride and sportier design, the 2016 Volt offers electric car buyers a premium option that is a leader in its segment. Now equipped with new features like active grille shutters, additional seating for five, an eight-inch screen in the instrument panel, Chevy MyLink, a standard rear-vision camera and newly available safety features (collision prevention software, blind spot awareness and rear park assist), the 2016 Chevy Volt in Springfield offers everything drivers could want in comfort, convenience and innovation.
New for 2016, the EV range of the Volt is now extended to 50 miles. This means drivers can now go further than before without ever using a drop of gasoline; a benefit that has not gone unnoticed by many 2016 Chevy Volt reviews. In fact, regularly-charged Volts are capable of going more than 1,000 miles between fill-ups. Need to travel further between charges? Chevy has redesigned the hatchback's 1.5L range extender to provide 41 mpg and up to 400 miles between gas station visits.
Now with GPS location-based charging, the Volt allows drivers to create preset charging "home" preferences that will be activated when the car's GPS detects the set home location. The convenience doesn't stop there, though. When on the go, drivers can also use the Volt's redesigned portable charging cords. In addition, new charge status indicators allow owner's to discern a charge status through various tones and lights.
Are you looking for an exceptional plug-in hybrid in the Springfield area? If so, there is truly no better option than the all-new Chevrolet Volt hatchback. A premier electric vehicle with classic style, modern technology and supreme efficiency, the 2016 Volt is the perfect choice for drivers who desire terrific fuel economy without unwanted concessions.