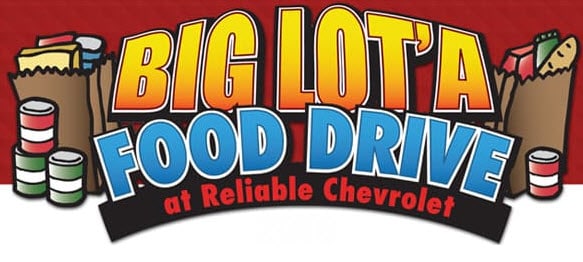 The fight against hunger deserves attention all year round, but during the holiday season it's particularly heartbreaking to know that there are families who have to choose between buying groceries and paying bills.
Food insecurity is a problem that plagues the Ozarks, and we want to do something about it. This holiday season, we're asking for your help to fight hunger in our community, and we'll give you a great perk in return for contributing.
During our Big Lot'a Food Drive, you'll receive a voucher for a free oil change when you bring in 10 nonperishable food items (within expiration). We're collecting food through Nov. 19, 2018, and delivering all of the items to Grand Oak Mission on the 20th. If you'd like to help, please visit our dealership in the coming weeks to make a donation!
This is the eighth consecutive year that Reliable Chevrolet has held the Big Lot'a Food Drive. We've delivered several truckloads of food in past years, and hope that all of you will continue to support the event once again.