It's time for the next generation Silverado to hit dealerships shortly, and we're celebrating the occasion by giving you a brief rundown of everything the Silverado has to offer you. With function specific trims like High Country, LTZ, LZ Trail Boss, RST, LT, or even a Custom Trail Boss, you're going to find that this full-size pickup has some amazing things to offer just about any kind of pickup truck lover. Whether you need to hit the trails, go to work, or head out for a night on the town with a significant other, your specific Silverado can make it happen. Here are a few more things that the Silverado has to offer potential buyers.
New Features and Tech Specs
Let's start with the body design. Chevrolet designed this one to be composed of high-strength, roll-formed steel that will stand the test of time no matter what conditions you're driving in. It's rock solid. You'll also get best-in-class cargo box volume. A A CornerStep bumper is going to make life a lot easier for workers who have to easily get in and out of the truck bed to do their job, so Chevy really did think of everything when it came to constructing a rock solid work AND play truck. They don't call it the next generation of truck for nothing!
What Else Can I Look Forward To?
Loses weight for better handling and a more aerodynamic design
Chevy 5.3-liter and 6.2-liter V8 engines are available
3.0-liter inline six-cylinder Duramax diesel engine combined with a 10-speed automatic gearbox
Horsepower ranging from 360 to 445 hp
Larger cab than in previous editions
You can look forward to more rear legroom and more cargo space than ever before
Chevy sells over 585,000 of these trucks a year, and it's for a reason: They're amazing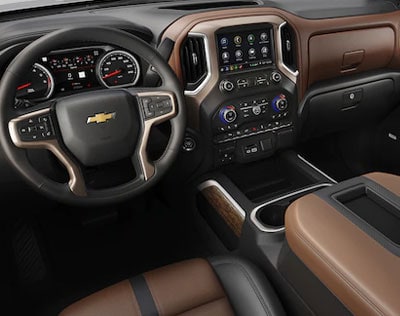 If you think the Silverado sounds amazing, join the club and buy one! You can get started on that goal by writing in to ask any questions you might have about the Silverado in 2019. This is one of the biggest releases of this year and any other year a Silverado has been made, and it's because Chevy always tries to outdo itself when it comes out with a new Silverado truck.
Millions of people drive a Silverado, whether present or past, and it's because they offer best-in-class features on so many different specs, especially cargo box hauling and towing. You're going to get a premium pickup truck that has enough trims to suit just about any need, whether it's going to work or hitting the trails for adventure.
How Can I Find Out More?
We're going to be stocking every single trim over the next year and beyond because we know that this is one of the trucks that people want to own. You can get a free test drive of the Silverado anytime. We're always available for questions about the model. We look forward to showing you this rugged pickup truck!