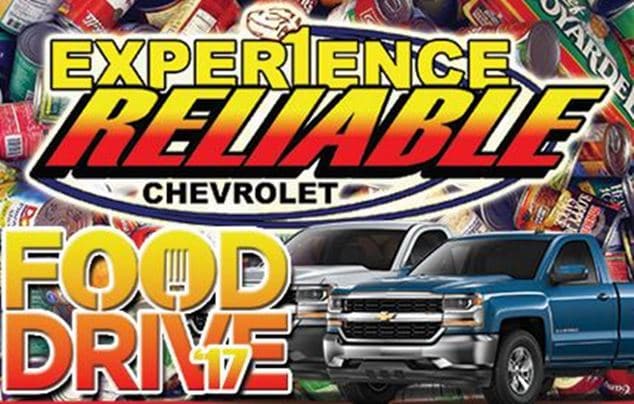 We care about helping you keep your new or used vehicle running at optimal levels, and we also want to continue to help support those in need. That's why we are proud to announce that we will once again be holding our "Experience Reliable Chevrolet Food Drive," just in time for the holidays.
From now through Monday, Nov. 20, you'll have the chance to receive a FREE oil change by donating ten non-perishable, non-expired, canned foods to help us feed those who are less fortunate in our local community.
Let's face it, most of us are able to purchase our groceries without having to worry about not having enough money to pay for them. However, that is not the case for a lot of folks who just can't afford to put food on their table. Reliable Chevy understands this, which is why we continue to hold the annual event that means so much to all of us at our dealership.
Like before, our objective is to fill five Chevy Silverado beds with food items stacked to the top. Once we reach (or hopefully exceed) our goal, we will then drive these trucks to Grand Oak Baptist Mission Center in Springfield and distribute the food to this well-deserving organization.
We encourage all our participants to go ahead and schedule their oil change appointment online before they stop by with their donations to help save them time at our store.
For more information, please contact us. We hope to see you soon!